The No.1 thing any individual can do is …
Find a forever bottle & REFILL
Big changes start with tiny choices.
The dusty bottle in the back of your cupboard or a glass one you bought juice in, is just as good as a shiny new reusable bottle. The important thing is you like it and you enjoy drinking water from it.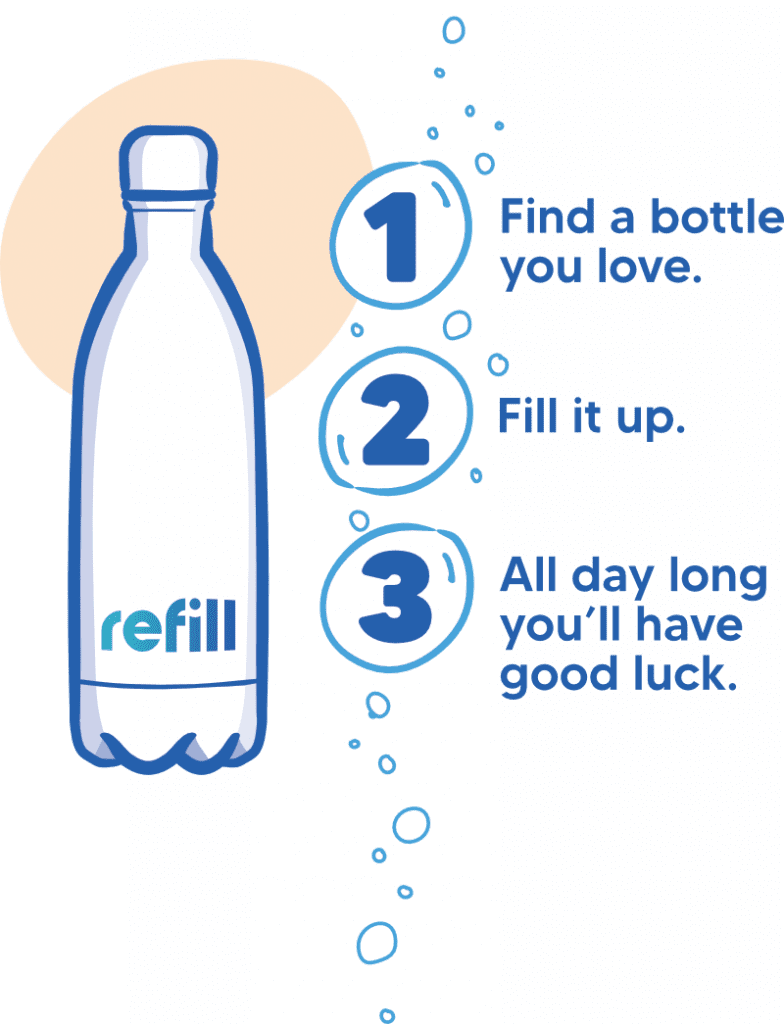 What else?
Hire us for your event
Plastic waste can be a huge problem for event organisers. We've got a number of ways to help you prevent the need for any waste at all. Champion green & change hydration at scale with immediate impact.
Join the Tap Map
Do you have a space to provide free refills? Find out about how to join the Tap Map and offer free water to your community.
Add tap map locations
Do you know a local business who would be willing to join? Talk to them about us today
Pro-Bono
Plastic waste is a huge problem and we can't do it alone. Single-use bottled water giants use agencies, branding, marketing, media, pr, influencers & campaigns, complemented with big budgets as they lure us to want disposable plastics & commodify drinking water.
Can you or your company offer pro-bono opportunities to support our work as we strategically drive forward with scalable, impactful & innovative solutions throughout Ireland? With your help we can make a difference.
Volunteer
Are you an individual that has some time to share weekly/monthly & you want to take the next step with your action?
Get in touch, we would love to hear from you!
Donate
Refill is a non-profit, all our funds contribute to growing the national Refill network & providing communities with refill stations. You can donate with us here
Head over to our campaign page and make your pledge
Become a Refill Ambassador
Would you like to be a Refill influencer in your community, advocating for Refill locally & on your social media? Let's keep it simple & get you started.
Download free posters and social media images to share
Speak to your local council and as them to pledge
Tag you local council in your social media posts
Get your friends involved and tag them in your posts
Don't forget use the hashtag